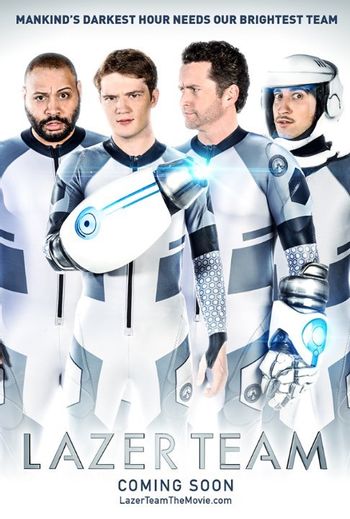 "Four unlikely heroes have to save the planet. Whether we like it or not."
Lazer Team is a 2015 sci-fi action comedy film, and the first feature-length film by Rooster Teeth Productions. Directed and co-written by Matt Hullum, the film stars Burnie Burns (who also co-wrote and made the story), Gavin Free, Colton Dunn and Michael Jones.
In the 1970s, the Earth was contacted by a group of aliens who warned of an incoming threat that would destroy the planet, and promised to send a suit of Powered Armor to help us. The Earth trained a human from birth to be its champion, but when the alien craft carrying the suit is accidentally shot down by a drunken firework display, four ordinary people don pieces of the armour instead. With the armour parts genetically locked to each person and mere days before the extraterrestrial threat lands on Earth, this dysfunctional and ill-prepared "Lazer Team" must learn to work as a unit if the world is to be saved.
The film was funded through Indiegogo. Its campaign, which lasted from June 6 to July 6, 2014 initially set a goal of $650,000, but support from the Rooster Teeth community was great enough that it broke the site's record for its quickest-funded film and reached one million dollars in only two days. The campaign eventually raised $2,480,334, which to this day is the record for the highest-funded film campaign on Indiegogo.
The teaser trailer can be seen here
and the first official trailer can be seen here.
On August 5th, 2016, a sequel was announced; it was eventually released on November 22nd, 2017.
---
This film provides examples of:
---