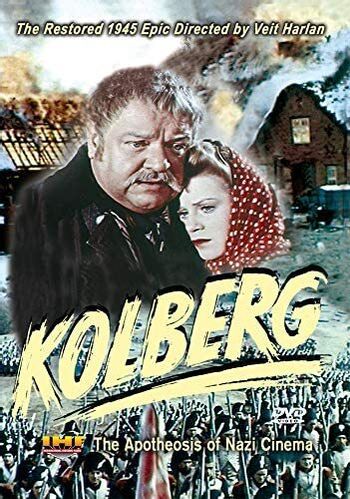 Kolberg
is a 1945 film made in
Nazi Germany
, directed by Veit Harlan.
It centers around the 1807 siege of the East Prussian town of Kolberg
note Now called Kołobrzeg and part of Poland during the War of the Fourth Coalition
, part of The Napoleonic Wars. France has just won a crushing victory against the army of Prussia at the battle of Jena, October 14, 1806. As Napoleon and his armies march into Prussia, confusion reigns and the people are left unsure what to do. Joachim Nettelbeck, mayor of the coastal town of Kolberg, insists on fighting to the last against the French invaders. However, Nettelbeck faces a great deal of resistance. Many citizens of Kolberg have become defeatists, arguing for surrender to Napoleon after the defeat at Jena. General Loucadou, the military commander at Kolberg, jealously guards his privileges and refuses to cooperate with Nettelbeck's plans to rally the population of the town to fight the French. Nettelbeck perseveres, eventually appealing to the King of Prussia for aid.
Kolberg is the most expensive film of the Nazi era, and one of the oddest. Joseph Goebbels ordered the production of a propaganda film celebrating the bravery of ordinary Germans fighting against invaders, as armies were entering Germany from both east and west. For this, he employed 100 train cars desperately needed for military transport to haul salt to the film set to simulate snow, and used perhaps 5,000 soldiers as extras.note At one time it was said that as many as 100,000 soldiers were used in the movie, but later research has shown that estimate to be a gross exaggeration.
And it was all for nothing. By the time the film was ready for release in early 1945, Nazi Germany was collapsing. Less than 2 months after its release, the real city of Kolberg was razed to the ground by the Red Army, and its residents fled rather than fighting to the last man. Goebbels didn't let reality interfere with propaganda, and insisted that Kolberg was fighting on just like in his film. Kolberg was shown sporadically in a few Berlin theaters in the last couple months of the war, and is said to have been brought to the besieged German pocket of La Rochelle in France by a submarine. Nowadays, like many Nazi era propaganda films, this movie has been declared a ''Vorbehaltsfilm'' in Germany which may only be played for educational purposes under certain circumstances and with an introduction as to what the propaganda tried to achieve with this movie.
---
Tropes:
---