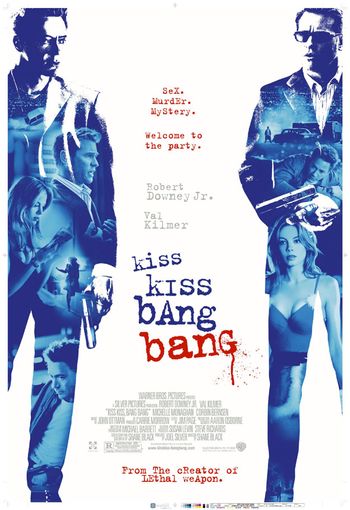 "Anyway, by now you may wonder how I wound up here. Or, maybe not. Maybe you wonder how silly putty picks shit up from comic books. The point is, I don't see another goddamn narrator, so pipe down."
— Harry
Kiss Kiss Bang Bang is a 2005 World of Snark Black Comedy film, acting as a self-aware parody of pulp detective novels and Film Noir. Narrated by the deadpan and lemony Harry Lockhart (Robert Downey Jr.), the film opens as Harry flees a crime scene into a movie audition. Having just witnessed his buddy being shot and killed, Harry suffers an emotional breakdown in front of the producer, who mistakes him for a professional method actor and casts him in a Detective Drama.
Sent to Hollywood for a screen test, Harry is partnered with a sassy, gay Private Detective called Gay Perry (Val Kilmer) to get a feel for his acting role. After stumbling upon childhood crush Harmony Lane (Michelle Monaghan), Harry heads on a routine stakeout with Perry; when the duo then inadvertently witnesses a body being dumped, they find themselves tangling with a surprisingly deep-rooted murder plot... just like the pulp novels Harmony used to read as a kid.
The movie was directed and written by Shane Black in his directorial debut. Despite being a box-office bomb (thanks to Executive Meddling), the movie was a critical success and went on to become a Cult Classic.
To avoid confusion it's worth mentioning that two other films also exist with the same title, one from 1966 and one from 2001. They have absolutely nothing to do with each other.
---
This film provides examples of:
open/close all folders
A-M
N-Z
---