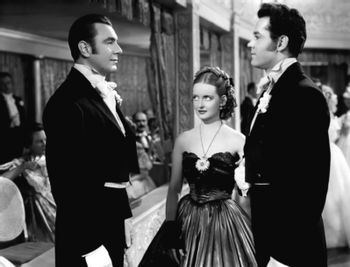 Jezebel is a 1938 film directed by William Wyler, starring Bette Davis and Henry Fonda.
Davis is Julie Marsden, a headstrong, rebellious Southern belle in 1852 New Orleans. Fonda is Preston "Pres" Dillard, her more sober, responsible fiance. Julie is given to temper tantrums when she thinks Pres isn't paying enough attention to her, and one particular tantrum, her decision to wear a red dress to the Olympus Ball, backfires when Pres breaks up with her. Pres promptly leaves New Orleans, going to New York to do business. When he comes back a year later, a humbled Julie is prepared to beg his forgiveness—until she finds out that he brought a wife back with him.
Jezebel won Davis the second of her two Oscars for Best Actress. It has a place on the National Film Registry. A young John Huston co-wrote the screenplay.
---
Tropes:
---