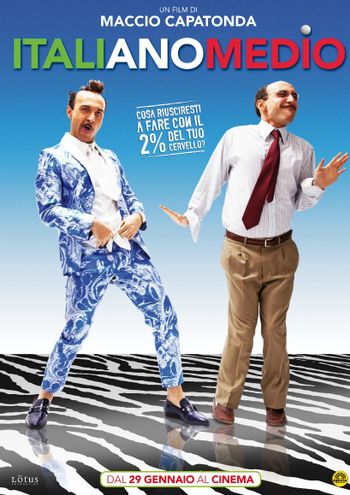 Italiano Medio
(
Average Italian
) is the 2015 directorial debut of TV and web comedian and satirist Maccio Capatonda (real name: Marcello Macchia), based on a 2012 short sketch with the same title, one of the many parody film trailers he made.
The story is about Giulio Verme, an extremely uptight man (he's vegan, does voluntary work, sorts all of his waste, never swears...) who is incredibly worried about the society he lives in and the world at large, and also about the fact that nobody around him seems to care. One day he meets his old childhood friend Alfonzo Scarabocchi, who gives him a mysterious pill that has the ability to change his brain potential... to 2%. From that moment on, he radically changes, becoming the "average Italian" of the title: a moron that only thinks about partying, booze and sex. During one of his alcohol-fueled romps, he devastates the very same park he swore to protect, but when turned back to his old self sees that after the fact the interest of the public about environmental themes seems to increase...
What on the surface seems a wacky Limitless parody is actually a fairly biting satire that skewers several aspects of the Italian society and has been lauded as a new, fresh example of the "Commedia all'italiana
" genre which was popular in the 60s and 70s.
---
This film provides examples of:
---