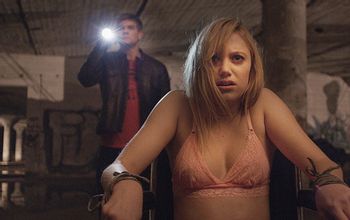 It Follows is a 2015 suspense horror flick directed by David Robert Mitchell. The film is based on a recurring nightmare that he had as a child.
The film follows Jay Height (Maika Monroe), a 19-year-old student living in the suburbs of Detroit. After a sexual encounter, she becomes stalked by a nameless entity. The film then becomes an exercise in existential dread: no matter how far Jay runs, she must face the mounting dread of its slow but relentless approach, and the fact that she will never be totally safe, even if she passes it on.
It Follows was originally released at the Cannes Film Festival in May 2014, later getting a wide release in March 2015.
---
It Follows contains examples of:
---