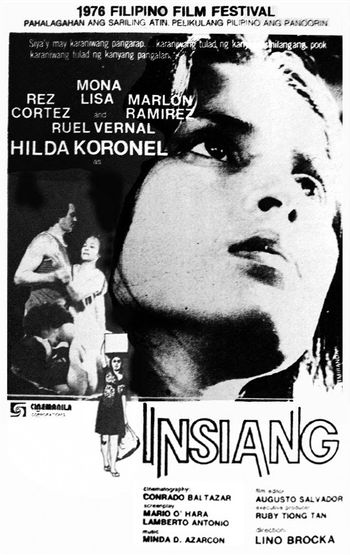 Insiang is a 1976 Filipino drama film directed by Lino Brocka. It stars Hilda Koronel as the titular character.
It tells the story of Insiang: a poverty-stricken young woman who lives with her abusive mother, Tonya (Mona Lisa) and, later, a promiscuous male lover, Dado (Ruel Vernal) who was with her mother in the first place in order to sleep with the daughter, who he later rapes. She has a boyfriend, Bebot (Rez Cortez) whom she trusted will take her away and keep her safe but also learns that he's no better. Having run out of options, she decides to take it upon herself to be free of the people who ruined her life and seeks vengeance by the latter half of the movie.
The movie is notorious for being set in the slums of Tondo. Insiang won four awards (for Best Actress, Best Supporting Actress, Best Supporting Actor, and Best Cinematography) in the 1976 Metro Manila Film Festival. It is also the first Filipino film to enter the Cannes Film Festival.
---
Provides examples of:
---