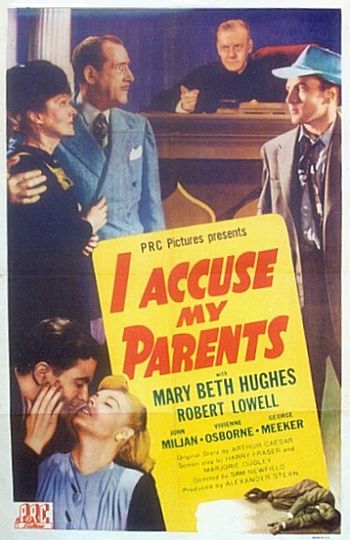 Jimmy: Well, sir... I don't know if I should say this, but... I accuse my parents.
I Accuse My Parents is an American film from 1944 about youth delinquency, directed by Sam Newfield, and starring Robert Lowell and Mary Beth Hughes.
James "Jimmy" Wilson (Lowell) is an all-American 25 year old man teenage boy living in typical 1940s suburbia. He's a nice kid and even won the big essay contest at school... oh, and his parents like to drink, party, and gamble.
This being a pseudo-propaganda film in the 40s, this pretty much ensures Jimmy will fall into a pit of debauchery and crime, and indeed he does in short order. Almost immediately upon meeting a pretty lounge singer named Kitty Reed (Hughes), Jimmy gets hired by her boyfriend, mobster kingpin Charlie Blake. After running a few errands for Blake, stupidly never suspecting that his boss — a "money man" who asks him to deliver vaguely defined "packages" at odd hours while insisting that he doesn't tell anyone else about it — is a criminal (or that he's even Kitty's boyfriend, as Jimmy starts dating her) Jimmy eventually figures out the truth and goes on the run, then later accidentally kills Blake in a scuffle.
Eventually, Jimmy is put on trial for manslaughter, but it all works out because the judge lightens Jimmy's sentence after the kid places the blame on his oblivious folks... Yeah, we're not sure how that worked, either.
Kitty's three songs, written by the future Oscar-winning team of Jay Livingston and Ray Evans, are surprisingly catchy. One suspects that the film was more of a vehicle for the music than the Aesop.
For the Mystery Science Theater 3000 version, please go to the episode recap page.
---
Tropes:
---