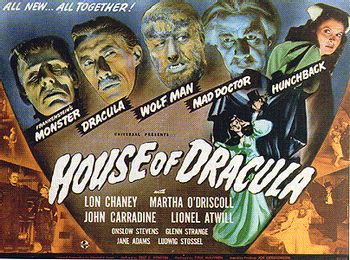 House of Dracula is a Universal Horror film from the year 1945.
After the events of House of Frankenstein, the yet again revived Wolf Man Larry Talbot is still seeking release from his condition. He ends up in Dr. Edelmann's place for treatment and accidentally finds Frankenstein's Monster in the caves under the house. Count Dracula is also there to find a cure for vampirism, but it is only a ruse to get near the nurse Morelle, upon whom he has set his sights.
This film is also notable for having a female hunchback assistant, though she is treated as a sympathetic and kind character (and is quite pretty to boot).
The film was the last serious Monster Mash film for Universal. Next up, the comedy duo Abbott and Costello would stumble upon the horrors of the studio.
---
Witness the tropes which pile the horror upon horror!
Unexplained Recovery: No attempt is made to explain how Dracula and Talbot survived their onscreen deaths in House of Frankenstein. However, earlier movies establish that Talbot revives when his corpse is exposed to moonlight, and a case can be made for his body being found and getting exposed again.
The X of Y: The film's title.
---