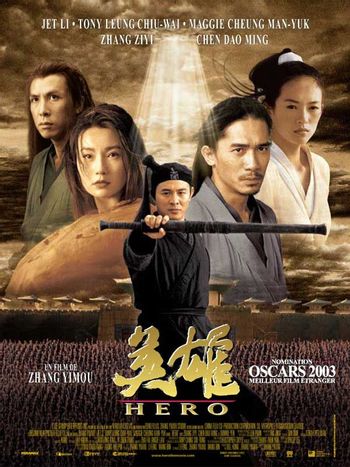 This is about the 2002 Chinese movie. For the 1992 movie released in America as Hero, see Accidental Hero. For another Chinese movie that came out five years earlier, check out Hero (1997). For other uses of "hero," see the Main page with the same title.
Hero is a 2002 Wuxia film directed by Zhang Yimou; it stars Jet Li, Maggie Cheung, Zhang Ziyi, Tony Leung Chiu-wai and Donnie Yen. The film is set in the troubled transitional period between the Warring Kingdoms and the Qin Dynasty, when the ruthlessly despotic King of Qin was in the process of annexing the other kingdoms of China and incorporating them wholesale into his own.
Jet Li plays "Nameless", ostensibly a minor official who claims to have vanquished three assassins—Broken Sword, Flying Snow, and Long Sky—who wanted to kill the King before he could declare himself Emperor. As "Nameless" tells his story to the paranoid King, things turn out not to be as they seem.
The movie generated political controversy, as the ending was interpreted by some as a justification of despotic rule and thus an endorsement of the current Chinese authoritarian regime.
---
Hero includes the following tropes:
---