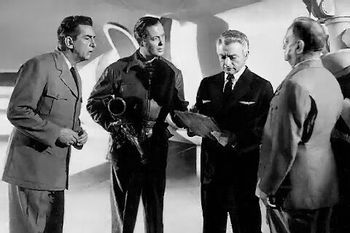 Here Comes Mr. Jordan is a 1941 comedy-fantasy film directed by Alexander Hall, starring Robert Montgomery and Claude Rains.
Joe Pendleton (Montgomery) is a boxer and amateur pilot. While flying to his next bout, his plane suffers a mechanical failure and goes into a dive. His soul is snatched from his body by an overzealous reaper, Messenger 7013 (Edward Everett Horton), but when #7013 takes him to the afterlife it turns out that Joe isn't due to die for another 50 years—if #7013 had left him alone, he would have pulled the plane out of the dive.
Messenger 7013 takes Joe's soul back to Earth, but it turns out they are too late; his body has been cremated. At this point his supervisor, another angel named Mr. Jordan (Rains) takes over. They eventually find him a replacement body in the form of wealthy businessmann Bruce Farnsworth—who has just been murdered by his faithless wife and her lover.
Here Comes Mr. Jordan received seven Academy Award nominations and won two. It had a Stealth Sequel called Down To Earth 1947, with Horton and James Gleason (Joe's trainer Max Corkle) reprising their roles and Roland Culver taking over for Rains as Mr. Jordan. That film is now best known as the film that Xanadu was Inspired by….
Here Comes Mr. Jordan has been officially remade twice, as Heaven Can Wait (1978)note Other than the title, no relation to the 1943 film with Don Ameche. and Down To Earth (2001).
---
Here Come the Tropes: