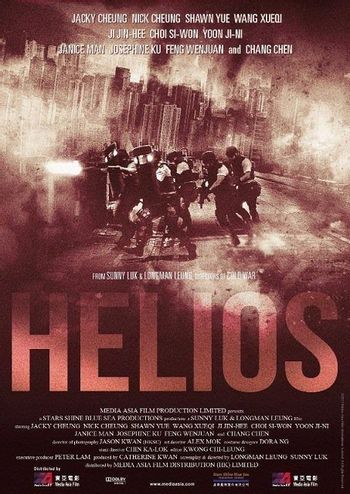 "If shit happens and someone is held accountable, it'll entail more than just saying "we'll do our best" and a job transfer."
— Professor Siu Chi-yan's warning to the task force on the dangers of DC8's accidental detonation.
Helios (赤道; Cek3 Dou6 in Cantonese and Chì Dào in Mandarin) is a 2015 Hong Kong terrorism thriller movie written by Longman Leung and Sunny Luk, the same duo who also directed Cold War. The movie stars Jacky Cheung, Nick Cheung, Shawn Yue, Wang Xueqi, Fen Wenjuan, Choi Siwon, Ji Jin-Hee, Yoon Jin-Yi, Chang Chen and Janice Man. It debuted in China on April 30, 2015 and in Hong Kong/Macau on May 1, 2015. The movie is the first in Hong Kong live-action film/TV history to feature the Hong Kong Police Force's Counter Terrorism Response Unit, which was established in 2009 in the wake of the Mumbai terrorist attacks.
The movie takes places in various locations, which includes Hong Kong, Macau and South Korea. A South Korean terrorist by the codename "Helios" storms a nuclear facility and kills the employees after seizing Davy Crockett 8 or DC8, which was South Korea's successful research into nuclear weapons without assistance from the United States. When the National Intelligence Service learns of this, Colonel Choi Min-ho and Lieutenant Park Woo-cheol are sent to Hong Kong to investigate and secure DC8 back before Helios would sell it to the black market.
In Hong Kong, the SAR government is alerted of this development. As such, a task force led by Hong Kong Police Force Chief Inspectors Eric Lee Yan-ming and Wong Kin-chung was created to lead the way to secure the WMD back from "Helios". To help in the search, CIP Lee secures the assistance of Siu Chi-yan, a professor of Physics at the University of Hong Kong to help advice the task force with regards to the weapon. After a series of raids and arrests, the task force is alarmed that Beijing wants DC8 to remain in Hong Kong for some time in order to help them toughen their anti-terrorist stance. The Hong Kong and South Korean representatives object to this, due to the dangerous nature of DC8.
During the course of the task force's investigation, various conspiracies start to pop up and challenge the limits of the task force in securing the weapon. This is coupled with complications as "Helios" strives to secure the DC8 from the HKPF's custody.
---
This film provides examples of: