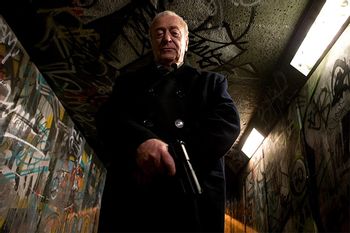 Michael Caine stars as Harry Brown, a widowed pensioner and ex-Royal Marine who lives on a council estate terrorised by feral teens. After an old friend confronts a bunch of them and is killed, he decides that enough is enough and is off to go chav-hunting. In essence, he's the British version of Paul Kersey.
The cast is noted for being very diverse, ranging from professional actors to actual and former gangsters, prostitutes and drug dealers. There is also an aspiring lawyer who also acts. Michael Caine himself lived not far from where the movie was shot and chose to do the project to raise awareness about English sink estates note Translates to American as "the projects" and the lifestyle lived in them.
An interview between Michael Caine and Jon Stewart can be found here
.
---
Tropes associated with the film:
---