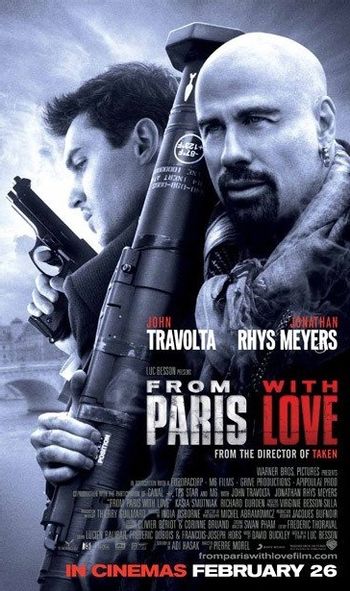 Wax: Nice work, Reese.
Reese: (covered in blood) What's so nice about it?
Wax: How 'bout he's dead and you're not?
2010 action film produced and co-written by Luc Besson and starring John Travolta and Jonathan Rhys Meyers.
James Reese (Meyers) is the personal aide to U.S. Ambassador in France. Unbeknownst to either the Ambassador or his beautiful French girlfriend Reese is leading a double life as a low level CIA operative. He juggles his responsibilities until he is ordered to team up with brash, trigger-happy, loose cannon Charlie Wax (Travolta).
Very violent Hilarity Ensues.
---
Tropes this film follows:
Awesomeness by Analysis

Wax: How long do you think it'd take to run down nine flights of stairs?. . .Fifty-four seconds. Five seconds to cross the lobby… and four to get to the car.

Berserk Button: Charlie and the Chinese restaurant not having good egg foo young.
Bilingual Bonus: The Chinese restaurant in which

cocaine is stored in the ceiling

is called "Les Lotus des Neiges'', which means "The Snow Lotus" in French.
Bittersweet Ending: All of the terrorists are dead but Caroline —who had been one of the terrorists all along— is killed by her own boyfriend, turning Reese into a Heartbroken Badass..
Bond One-Liner: "Wax on, Wax off". (Doubles as a Shout-Out to The Karate Kid, written by Luc Besson's writing partner Robert Mark Kamen.)
Boom, Headshot!: The famous dinner scene. It wound up being a meme.
The Chessmaster: Reese's opening-scene game with his boss defines his character from the get-go. It's implied that this is the characteristic that lands Reese his big break. Wax is also a speed chessmaster, bordering on Clock King.
Concealment Equals Cover: Happens repeatedly, but does get subverted once: Wax fires his pistol at a mook who's hiding safely behind a wall. Then he runs out of ammo, grabs an assault rifle and proceeds to shoot the mook through the wall.
---