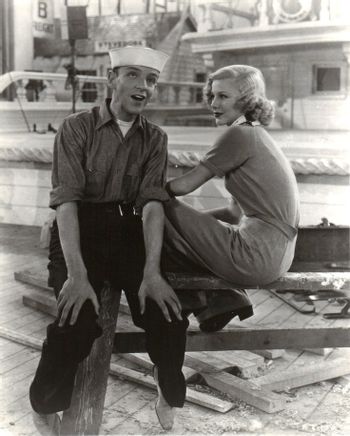 A 1936 Romantic Comedy Musical movie starring Fred Astaire, Ginger Rogers, Randolph Scott, and Harriet Hilliard. The music is by Irving Berlin.
"Bake" Baker (Astaire) and Sherry Martin (Rogers) are former dance partners, now separated, with Baker in the Navy and Sherry working as a dance hostess in a San Francisco ballroom, Paradise.
Bake visits the ballroom with his navy buddy "Bilge" Smith (Scott) during a period of liberty, reuniting with Sherry while Bilge is initially attracted to Sherry's sister Connie (Hilliard). When Connie begins to talk about marriage, Bilge quickly diverts his attention to Iris, a divorced socialite.
The sailors return to sea while Connie seeks to raise money to salvage her deceased sea-captain father's sailing ship. When the boys return to San Francisco, Bake attempts to get Sherry a job in a stage show, but fails amidst a flurry of mistaken identities and misunderstandings. He redeems himself by staging a benefit show which raises the final seven hundred dollars needed to refurbish the ship—although he has to jump ship in order to do so. Bilge, now a Chief Petty Officer, is ordered to locate and arrest him, but allows Bake to complete the show.
The Show Within a Show features one of Astaire and Rogers' most famous duets, "Let's Face the Music and Dance." In this self-contained story, they play two socialites in Monte Carlo. Bake's character, having just lost all his money at the gambling table, is preparing to shoot himself when he spots Sherry's character about to fling herself into the ocean. This snaps him out of his suicidal mood, and he then sets out to convince her through song and dance that she should go on as well.
After the concert, Bilge and Connie, now reconciled, make plans to get married and sail around the world in the newly restored ship. Meanwhile, Bake and Sherry are offered a show on Broadway, which Bake accepts on the proviso that Sherry asks him to marry her. Of course, he first has to be sent to the brig and take his punishment.
---
The film contains examples of:
---