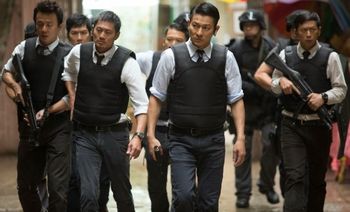 Firestorm (風暴) is a 2013 Hong Kong action movie starring Andy Lau.
A group of heavily armed criminals led by the notorious Cho Nam pulls off a string of violent heists on armored bank transports, and as a result, seasoned Senior Police Inspector Lui Ming Chit (Andy Lau) is determined to bring them down. One of the group members is Pong (Gordon Lam) who had just recently been released from prison and wants to leave his criminal life behind to be together with his girlfriend, Yin Bing (Yao Chen), and decides to be a police informant. Neither man, however, is aware of just how heavy the storm that they're both headed into is...
Not to be confused with the 1998 film starring Howie Long.
---
This film provides examples of:
---