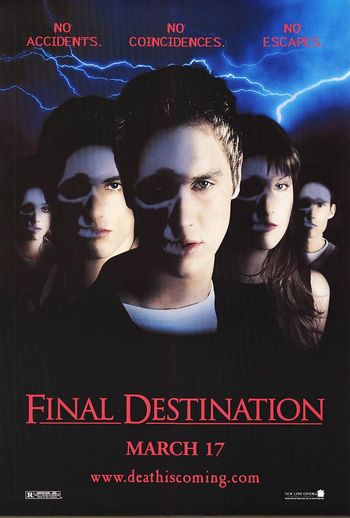 "Whatcha have to realize is that we're all just a mouse that a cat has by the tail. Every single move we make, from the mundane to the monumental; the red light that we stop at, or run; the people we have sex with, or won't with us; the airplanes that we ride, or walk out of...it's all part of Death's sadistic design leading to the grave."
—Bludworth
Final Destination is the first film in the Final Destination series, released in 2000.
Alex Browning (Devon Sawa) and his classmates are going on a trip to Paris when he receives a horrifying vision of the plane exploding soon after take-off. He causes a scene that ends with several other high schoolers, and one of their teachers avoiding the disaster. When the survivors start dying off one by one, Alex realizes that Death itself is coming after those who escaped their fates.
Also stars Ali Larter, Kerr Smith and Seann William Scott. Tony Todd has a memorable role as a coroner called William Bludworth.
---
This film provides examples of:
---