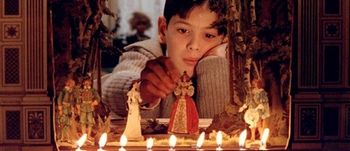 "Everything can happen. Everything is possible and probable. Time and space do not exist. On a flimsy framework of reality, the imagination spins, weaving new patterns."
Fanny and Alexander is a 1982 film by Ingmar Bergman. The story centers around the filthy rich Ekdahl family in Sweden, from 1907 to 1909. Matriarch Helena Ekdahl is a widow, who has maintained a long term relationship with Jewish shopkeeper Isak Jacobi. Helena's son Carl is unhappily married and deeply in debt. Her son Gustav is in a happy open marriage with Alma and is also seeing Maj the maid. Helena's son Oscar has the simplest home life, married to the lovely Emelie, with two children, Fanny and Alexander (the film is from Alexander's point-of-view). Unfortunately Oscar and Emelie's happiness is cut short, when Oscar suddenly dies from a stroke. Emelie winds up marrying the local Protestant bishop, Edvard Vergerus — a marriage that both she and her children quickly regret.
Fanny and Alexander was the last theatrical film of Bergman's career, although he wrote and directed for television for another 20 years. In fact, it was originally conceived as a television mini series, and exists as both a 188 minute theatrical cut (the first to be released), and a 312 minute television cut. It is commonly regarded as one of his masterpieces and won 4 Oscars at the 1984 Academy Awards, including Best Foreign Language Film.
---
Tropes:
---