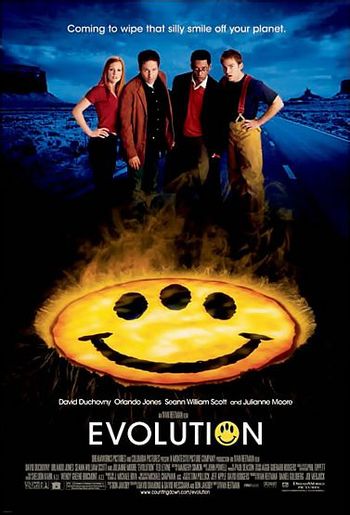 Evolution is a 2001 sci-fi comedy film directed by Ivan Reitman, written by David Diamond, David Weissman and Don Jakoby from a story by Jakoby, and released by Columbia Pictures and Dreamworks on June 8, 2001.
Glen Canyon, Arizona, The Present Day. Wayne Grey (Seann William Scott), practicing at night in the desert for his upcoming firefighter entrance exam, witnesses the impact of a meteor throw his car 200 feet in the air and crash down. The next day, biology teacher Dr. Ira Kane (David Duchovny) and geology teacher Harry Block (Orlando Jones) from Glen Canyon Community College manage to get to the meteor, which has crash-landed at the bottom of a system of underground caverns. By taking a sample, they discover a slimy blue fluid coming out of the meteor.
A little later, Ira finds out that myriad single-celled life-forms dwell in the fluid, evolve at an incredible rate, even while he's watching. What first seems like a sure ticket to Sweden for the Nobel Prize soon develops into a nightmare: by evolving and adapting at that unbelievably fast rate, the aliens start spreading out, killing people, and the military — led by General Woodman (Ted Levine), who's accompanied by epidemiologist Dr. Allison Reed (Julianne Moore) — comes in. Now it all comes down to what Darwin so rightfully stated: Survival of the fittest...
It gave rise to a short-lived animated series, Alienators: Evolution Continues.
---
Evolution contains examples of:
Hidden Depths: Deke and Danny are smarter than they appear, at least in regards to their grooming practices.
Hollywood Evolution: "Evolution" in this movie depicted as the rapid development of single-celled organisms instead of more and more complex ones. At the end, it is noted that

the giant amoeba is still considered "evolution" over the apes and such because evolution is the ability to survive.
---