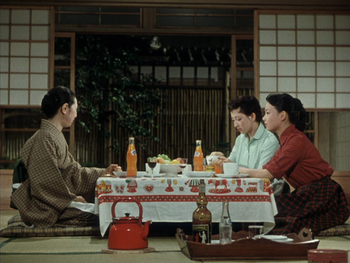 "Eventually, parents have to give in."
Equinox Flower is a 1958 film from Japan directed by Yasujiro Ozu.
Hirayama is a fairly ordinary Tokyo businessman in late middle age. He is not as hidebound by tradition as some, as indicated by the sage advice he gives a friend whose daughter has run away to be married. But when a man named Taniguchi shows up at his office one day and asks for the hand of his daughter Setsuko in marriage, Hirayama flips out. Angry over not being asked before Taniguchi and Setsuko chose each other, Hirayama refuses to consent to the marriage. It eventually becomes clear that his daughter is going to get married anyway, however, and Hirayama is left to make peace with his daughter's wedding and Japan's rapidly changing culture.
---
Tropes:
---