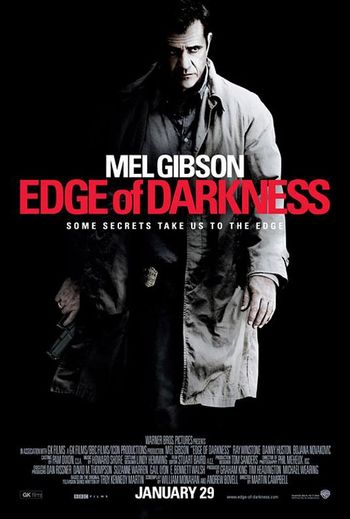 Edge of Darkness is the Hollywood film adaptation of the BBC television series of the same name. It was directed by Martin Campbell (Casino Royale (2006), The Mask of Zorro), and stars Mel Gibson and Bojana Novakovic (Drag Me to Hell). The film was released by Warner Bros. in 2010 to mixed critical reception.
Widowed detective Thomas Craven (Gibson) lived only for his career with the Boston PD and his daughter, Emma (Novakovic). During an unexpected visit at Craven's home, Emma suddenly becomes violently ill at the dinner table... and, in a panic, urges her father to take her to the hospital, telling Craven that there was something important she needed to tell him as they prepared to leave. Before he could find out what that was, Emma is fatally shot in the chest by a masked assailant on Craven's front porch... a shot that the Boston Police believed was meant for Craven himself.
However, his daughter's strange behavior before her death gives Craven reason to doubt that assumption. And the deeper he digs into Emma's past and the secretive nature of her work, the more reason he has to believe that the assassin's bullet was, in fact, meant for her. Soon Craven finds himself in the midst of a conspiracy involving powerful corporations, ruthless killers, and some of the highest levels of the United States government. Unwilling to let his daughter's death be in vain, Craven vows to pursue the truth no matter the cost to his career, or even his own life.
Not to be confused with the 1943 World War II film, also titled Edge of Darkness.
---
Edge of Darkness contains examples of:
---