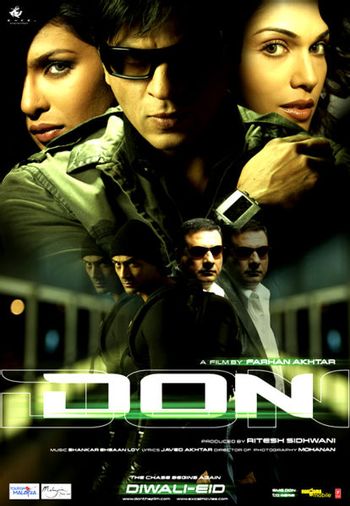 A 2006
Bollywood
film, and Farhan Akhtar's remake of
the 1978 film
starring
Amitabh Bachchan
. This version stars
Shah Rukh Khan
,
Priyanka Chopra
and
Kareena Kapoor
. Follows the conflict between an Indian drug lord's lieutenant (a man known as Don), and his arch-rival; the cop DCP De Silva. After Don's death, De Silva replaces him with his lookalike Vijay in order to dismantle the drug cartel. Two other subplots involve Jasjit (who was screwed over by De Silva) and Roma (who was screwed over by Don.)
Many many action scenes ensue
.
---
This film provides examples of:
Improbable Weapon User: Don kills people with exploding briefcases and golf balls.
I Never Said It Was Poison:

Roma realizes Vijay has been Don all along when he says "I like wildcats." Slight subversion because he fully meant for her to realize it and revealed this information when there was nothing she could do about it.
---