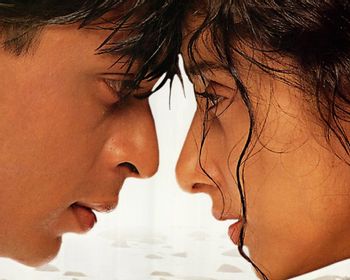 "Some people are like the Sand; a wind blows them away."
—Meghna
Amar Varma, an Indian journalist and a Jerk with a Heart of Gold investigates a terrorist group in a troubled part of North-Eastern India aflame with insurgency and meets a Troubled, but Cute Meghna with a Dark and Troubled Past at a railway station. He falls in love with her and is persistent in chasing her even after her repeated rebuffs. Two men who travelled with her beat him down senseless though that makes him become obsessively enamored of her. The two get stranded after their bus breaks down and they slowly start to fall in love. Meghna leaves him one night and is not heard of again. She visits him in Delhi however when she hears about his engagement with Preeti. When she comes to Delhi, Amar discovers that Meghna is a Broken Bird who is part of a terrorist group planning on carrying out a suicide attack on the Prime Minister.
Released in 1998, Dil Se (From the Heart) is the third movie of Mani Ratnam's trilogy that deals with India's War on Terror, Culture Clash and its concerns on terrorism and domestic instability. In contrast to the first two movies of his trilogy, it is first and foremost a love story. It is known mostly for fantastic songs from A.R. Rahman, including Chaiya Chaiya and features an Troperrific number of Tropes.
---
Dil Se provides examples of:
---