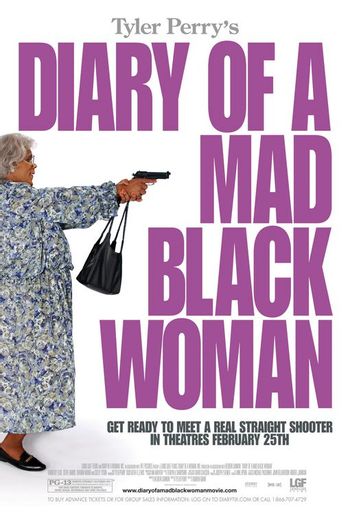 A 2005 romantic dramedy film directed by Darren Grant and starring Tyler Perry, adapted from a stage play of the same name.
Helen (Kimberly Elise) and Charles McCarter (Steve Harris) had everything: fine home, beautiful clothes and success. In public, they were the perfect match. But behind the scenes was another matter. On what should have been the end of the happiest day of their lives, Charles evicts Helen, his wife of 18 years, from their house in the presence of his mistress. She moves in with her grandmother, Madea (Tyler Perry). Helen then goes from meek and mild to mad, starts a diary and a new life, and meets a new man, Orlando (Shemar Moore).
---
Tropes:
Screw This, I'm Outta Here: Brenda takes off with the money and kids the second she realizes that Charles is going to be disabled and she'd be expected to take care of him.
Sexless Marriage: Charles mentions that he and Helen haven't had sex in a long time. That was one of the red flags that Helen overlooked due to her being in denial that their marriage was coming to an end.
---