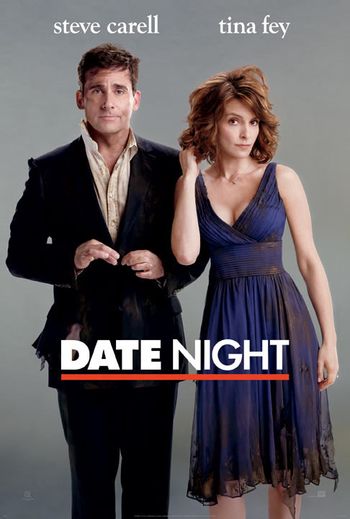 Date Night is a 2010 romantic/action/comedy film directed by Shawn Levy and starring Steve Carell and Tina Fey as a hapless New Jersey couple, who have a "date night" every week.
A couple who is friends with them is getting divorced because they have gotten bored with each other. Phil and Claire are told independently that they need to spice up their life. One night, after seeing her dressed up far beyond her usual date night "business casual", Phil decides to take Claire to the exclusive restaurant Claw, but neglects to make reservations in advance. Upon their arrival, Phil decides to take the reservation of a no-show couple, the Triplehorns.
During dinner, a pair of men arrive and ask to talk to them in the alley outside. Phil and Claire comply, believing them to be restaurant employees who have discovered their dishonesty. They turn out to be thugs working for mobster Joe Miletto, attempting to retrieve a flash drive that the real Triplehorns have stolen. Phil and Claire attempt to explain themselves, but the men threaten them at gunpoint. Phil leads them to Central Park, where he and Claire escape after assaulting the two men.
After discovering the two men are corrupt police officers, Phil and Claire realize they can't trust the police, since the police must be on Miletto's payroll. With the thugs still after them, they decide to retrieve the flash drive from the real Triplehorns and return it to Miletto so that the men will leave them alone.
The rest of the film is Phil and Claire's attempt to get through the night without being killed or endangering their family at home. This involves skills, knowledge, and connections they didn't know they had, plus a few that they don't have, and multiple near-disasters.
It placed second in its box-office clash with the infamous remake of Clash of the Titans, but it was well-received, with critics noting the great chemistry between Carell and Fey.
---
The movie provides examples of:
---