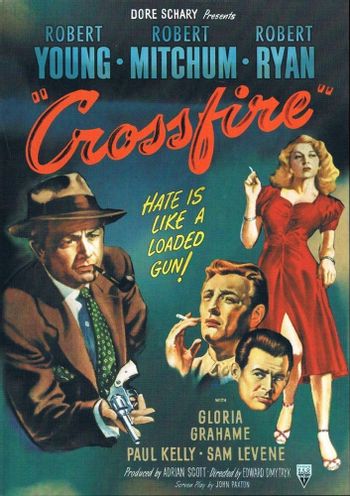 Crossfire is a 1947 Film Noir directed by Edward Dmytryk, starring three men named Robert: Robert Young, Robert Mitchum, and Robert Ryan.
A man named Samuels is found beaten to death in his apartment. Detective Finlay (Young) first focuses on a young soldier, Corporal Arthur Mitchell, who'd been seen in Samuels's company earlier that night and whose wallet was found in Samuels's couch. The leader of Mitchell's unit, Sergeant Keeley (Mitchum), doesn't believe that Mitchell could possibly be a killer, so he investigates the murder himself. Eventually suspicion shifts from Mitchell to another member of the unit, Montgomery (Ryan), who'd also interacted with Samuels that night— and who turns out to have his own motive for murder.
One of the first Hollywood films to deal with the topic of antisemitism, Crossfire became something of a Dueling Movies example along with Gentleman's Agreement, another major 1947 release exploring the same theme.
---
Tropes:
---