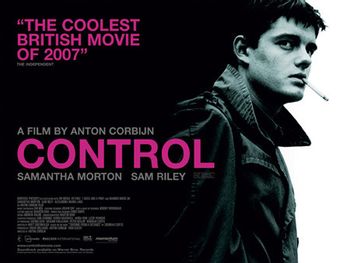 Control is a 2007 biopic about Ian Curtis and Joy Division, directed by former band photographer Anton Corbijn. Corbijn already had a 24-year stint directing music videos before then, including one for the 1988 reissue of Joy Division's "Atmosphere", but this marks his first feature-length work that isn't a documentary (his only other feature film before this was a Depeche Mode Concert Film). Similarly, Control is possibly the only straight-up biopic about Ian's life that isn't a documentary. The film was adapted from Touching from a Distance, a biography written by Curtis' widow, Deborah; she served as the movie's co-producer alongside Corbijn and former Factory Records head Tony Wilson (who died two months before the film's release, making it the last major project he worked on in his lifetime), among others.
In Manchester during the second half of the 70's, aspiring poet and young newlywed Ian Curtis forms a punk band with a few friends after attending a Sex Pistols concert. First calling themselves Warsaw, then Joy Division, they manage to weave their way into a record deal on nascent indie label Factory Records, whose eccentric producer Martin Hannett helps bring the band to popularity. However, while things appear to be looking up for the band, Ian's life is rapidly spiraling downhill: he develops epilepsy, which makes performing increasingly difficult, his marriage grows strained, and his battle with depression becomes more and more overwhelming. By the end of it all, he and everyone around him will see their lives radically upended.
No relation to the Janet Jackson album, the Remedy Entertainment game, or the Azumanga Daioh fanfiction. Compare 24-Hour Party People, a more flippant biopic that focuses more broadly on Joy Division's record label and the Manchester alternative scene as a whole.
---
Tropes:
---