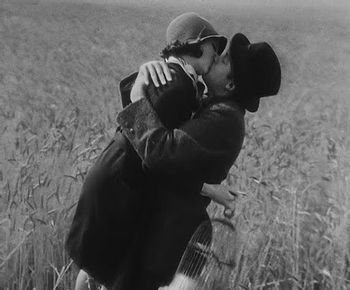 City Girl is a 1930 film directed by F. W. Murnau.
Charles Ferrell is Lem Tustine, dutiful son to an overbearing, brutish father. The Tustines are farmers in rural Minnesota. Lem is sent off from the farm to Chicago, to sell their wheat harvest, with strict instructions from Mr. Tustine to not sell for less than $1.15 per bushel. Slumping wheat prices force Lem to sell for $1.12 per bushel. While in Chicago, Lem bonds with Kate, a pretty, friendly waitress at the diner where Lem eats. Kate has her own disappointments, sick of life in the hot, stifling, noisy city, yearning to escape to a peaceful country life.
Just before he has to go back home, Lem impulsively asks Kate to marry him, and she just as impulsively accepts. Their joyful trip back to Minnesota is ruined when Lem's cruel, glowering father berates him for not getting the best price for the wheat. Mr. Tustine takes an instant and vicious dislike to his daughter-in-law, treating her cruelly and driving a wedge between Lem and Kate. Into this wedge comes Mac, the foreman of the group of laborers who work Mr. Tustine's farm. Mac is only too eager to claim Kate for his own.
City Girl has gone down in history as a famous Troubled Production. The talkie revolution led Fox Studios to Re-Cut Murnau's previous film 4 Devils as a part-talkie. Murnau, incensed at this and at Fox's plans to do the same for City Girl, quit on the spot, with City Girl not quite finished. The film was then chopped up and stuffed with talking scenes, finally released in 1930. The talking version has been lost. However, a silent cut of the film intended for foreign markets has survived. This one is believed to be fairly close to Murnau's original vision for the film. The ending is known to have been directed by Fox studio hands after Murnau quit, but it is not known if or how much it differs from Murnau's original story.
---
Tropes: