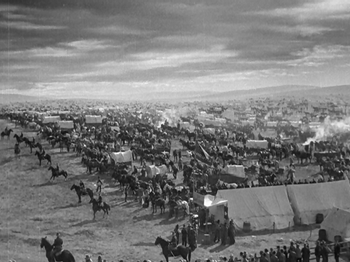 Cimarron is a 1931 film directed by Wesley Ruggles, starring Richard Dix and Irene Dunne.
Dix and Dunne are the ridiculously-named Yancey and Sabra Cravat, who along with their even more ridiculously named son Cimarron enter Oklahoma in 1889 with the Oklahoma Land Rush. (This topic was also dramatized in the Tom Cruise and Nicole Kidman vehicle Far and Away.) Yancey helps found the town of Osage, Oklahoma, and also starts a town newspaper. Actually he becomes a jack of all trades—holding religious services in the town, serving as an unofficial lawman (complete with shootouts with ruffians), and also serving as an attorney. The Cravats prosper as the town thrives, but Yancey gets a yearning to pull up sticks and leaves for the second land rush in 1893, with the opening of the Oklahoma Panhandle (aka the "Cimarron Strip"). He does not make contact with his family for five years. He makes it back to Osage after fighting in the Spanish-American War, but his wanderlust isn't quenched.
Cimarron received seven Academy Award nominations and won three, including Best Picture. It routinely appears on short lists of the worst Best Picture winners of all time. Users at the Internet Movie Database rank it as the absolute worst
Best Picture winner. Among films made in that time period that weren't even nominated are the Bela Lugosi Dracula, Little Caesar, The Public Enemy, and Charlie Chaplin's masterpiece City Lights. It was, however, the first Western to win Best Picture, and the last until Dances with Wolves fifty-nine years later.
A remake was produced in 1960, directed by Anthony Mann and starring Glenn Ford, Maria Schell, and a thousand character actors. This version failed with both critics and audiences, and is generally considered inferior to the original.
---
Cimarron includes examples of the following tropes:
---