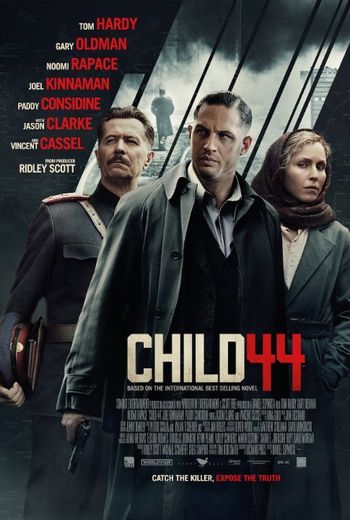 Child 44 is a 2015 mystery thriller film, based on the novel by Tom Rob Smith, which was loosely based on the real-life murders by the "Rostov Ripper"
. It was directed by Daniel Espinoza and stars Tom Hardy, Noomi Rapace, Gary Oldman, Jason Clarke, Vincent Cassel, Paddy Considine and Mark Lewis Jones.
Leo Demidov is a Soviet war hero and member of the Ministry of State Security (MGB). When the child of his friend is found brutally killed by the train tracks, the State officially declares the death an "accident"; for you see, murder is only a capitalist disease and thus would never happen in the USSR. After a series of similar deaths occur in the surrounding area, it becomes quite clear that they are dealing with a serial killer. Demidov, however, takes it upon himself to solve these crimes, even as the State tries to sweep it under the rug.
---
This Film Contains Examples Of:
---