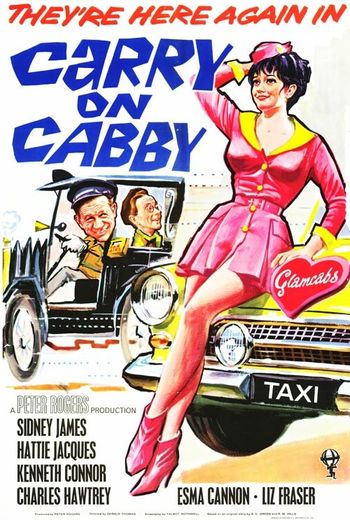 Peggy: I haven't had a chance to talk to him since last Wednesday - and then it was only with his legs!
Ted: His legs?
Peggy
: Yes, sticking out from under a cab. It's not fair, 'e knows I can't get under one.
— Peggy Hawkins complaining about her husband Charlie to Ted Watson.
Carry On Cabby is a 1963 black and white film, which is the seventh Carry On movie in the British series. It starred Sid James, Hattie Jacques, Kenneth Connor, Charles Hawtrey, Esma Cannon, and Liz Fraser. It was also the first Carry On to feature a script by Talbot Rothwell (the writer of the first six films, Norman Hudis, having been offered a job in Hollywood after the surprise American success of Carry On Nurse); he would write the scripts for twenty Carry On films to come, ending with Carry On Dick in 1974.
Cabby tells the story of Charlie Hawkins (James), a workaholic who is always in constant trouble with his wife Peggy (Jacques) because he is never home when she is awake or around. He is in charge of taxi company Speedee Taxis and works alongside Ted Watson (Connor) - who's having the same relationship problems with girlfriend Sally (Fraser) - and newcomer Terry "Pintpot" Tankard (Hawtrey), and his long hours at work make most of his conversations be on the topic of cabbing, even with his annoyed wife.
Upon forgetting their wedding anniversary and arriving hours late for their anniversary date night, Peggy hopes to avenge him the harshest way she can think off - by attacking his taxi business. So she does this by setting up her own, called GlamCabs, by having young attractive women as the drivers, who use their assets to gain customers, which endangers Charlie's business and convinces him try and bite back twice as big.
This movie is notable for its full use of Values Dissonance. The common theme in the movie is sexism, which is the reason why Peggy invents her own rival taxi company that only hires women. One of the women hired, Flo Sims (Cannon), was already discriminated against for being female by Speedee Taxis, and the workers telling Charlie that driving was "a man's job". Once GlamCabs starts earning more money, Charlie is threatened and tries everything to make them bankrupt.
Despite that, Carry On Cabby is full of the common themes of a Carry On film: a Hurricane of Puns, Sid James' laugh and bawdy humour.
---
Tropes Included:
---