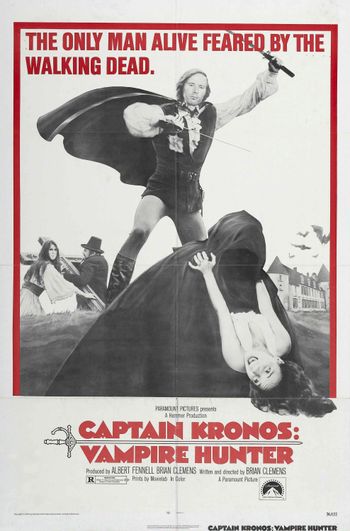 A 1972 (released 1974) Hammer Horror film about a captain, named Kronos, who hunts vampires.
With his village plagued by a string of mysterious deaths, which leave the victims withered with age, former military surgeon Doctor Marcus calls on his old army buddy Captain Kronos to investigate. Kronos rides into town on a black horse, accompanied by his hunchbacked assistant Professor Hieronymous Grost, and Carla, a beautiful woman he rescued on the road, and finds himself faced with two problems: First, working out exactly who the vampire is, and second, working out exactly how it can be killed.
In 2017, around 50 years after the film's release, Titan Comics published a four-issue comic book sequel to Captain Kronos written by Dan Abnett and drawn by Tom Mandrake. It deals with Kronos, Grost and Carla now acting as a team of vampire hunters and encountering a dark village in the heart of Romania in a fierce war against a Vampire invasion. But there's more to that village than meets the eye...
Captain Kronos: Trope Hunter:
Tropes in the comic book sequel:
---