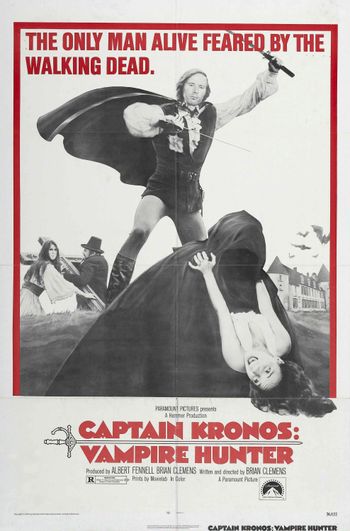 A 1972 (released 1974) Hammer Horror film about a captain, named Kronos, who hunts vampires.
With his village plagued by a string of mysterious deaths, which leave the victims withered with age, former military surgeon Doctor Marcus calls on his old army buddy Captain Kronos to investigate. Kronos rides into town on a black horse, accompanied by his hunchbacked assistant Professor Hieronymous Grost, and Carla, a beautiful woman he rescued on the road, and finds himself faced with two problems: First, working out exactly who the vampire is, and second, working out exactly how it can be killed.
Hammer Studios has made the film available for free
on Youtube.
In 2017, around 50 years after the film's release, Titan Comics published a four-issue comic book sequel to Captain Kronos written by Dan Abnett and drawn by Tom Mandrake. It deals with Kronos, Grost and Carla now acting as a team of vampire hunters and encountering a dark village in the heart of Romania in a fierce war against a Vampire invasion. But there's more to that village than meets the eye...
Captain Kronos: Trope Hunter:
An Arm and a Leg: Kronos finds a man lying face down. He turns him over to check on him — and his right arm stays lying where it was.
Asshole Victim: The overtly cruel bar thug we see in one scene reappears with his fellow goons in a later scene when Kronos and Grost enter the bar looking for information on the vampire they're hunting, insulting the two men and itching for a fight. Kronos kills him and his fellow goons in a Single-Stroke Battle and finds evidence in the man's clothes that he as paid by the vampire to try to kill Kronos and Grost. After reassuring the bartender and his wife that he's not going to hurt them, neither Kronos, Grost nor the bartender care about the fact that three men had their throats sliced open with a katana and are now lying dead in the middle of the establishment.
Awesome Mc Coolname: Kronos himself, and Professor Hieronymous Grost.
The Bait: Carla is sent in to draw the vampires out.
Bifauxnen: Sara, who keeps her hair short and frequently wears men's clothing.
Blood from the Mouth: Evidence not only that a person is dead, but that they've been killed by a vampire.
Katanas Are Just Better: An Unbuilt Trope: Kronos carries both a katana and a sabre, and appears to favour the katana for everyday use. However, he uses a medieval-style arming sword in the final fight, specially forged for the occasion.
Lock-and-Load Montage: Carla and the Professor load Kronos up with painted-on crosses, garlic flowers, and his special sword.
Ms. Fanservice: Carla's primary role in the film is to smoulder a lot, and sleep with Kronos. She does not appear to own a bra. Or a pair of shoes...
No Ontological Inertia: When killed, vampires return to their true age.
Our Vampires Are Different: Professor Grost explains that there are as many different kinds of vampire as there are predatory beasts. This particular one sucks out its victim's youth, is unaffected by daylight, appears in mirrors, and is killed by an iron blade to the heart. Oh, and the passage of a vampire will resurrect a dead toad.

Professor Grost: Vampires. Doctor Marcus, it is commonly supposed that a vampire attacks in one way: by biting the neck and draining the victim of blood.

Doctor Marcus: [nods in agreement] That's true.

Professor Grost:

The girls you spoke of, they were not drained of blood, but of

youth

. Of

life itself

. You see, Doctor, there are as many species of vampires as there are beasts of prey. Their methods and their motive for attack can vary in a hundred different ways. [starts pacing around the room] And their means of their destruction. Ah, the traditional stake through the heart doesn't always hold good, you know? Some can only be destroyed by hanging or decapitation, or fire or water! Or by other means (

pats model cannon on a nearby table

)!
Rasputinian Death: Doctor Marcus. After being turned, he asks for a Mercy Kill from Kronos and he and Grost test several kinds of methods to kill vampires to see what can kill the type that Marcus has been turned into. They find out their vulnerability is iron by sheer chance, and Marcus lives long enough to thank them before passing away.
Scars are Forever: Hagen still bears the marks of the plague that killed him, and Kronos has a long scar on his side. Doctor Marcus (who served with him in the army) explains it:

"I know you've got guts, Kronos. I've seen them."

Shirtless Scene: Kronos seems to like showing off his scars.
Tropes in the comic book sequel:
---