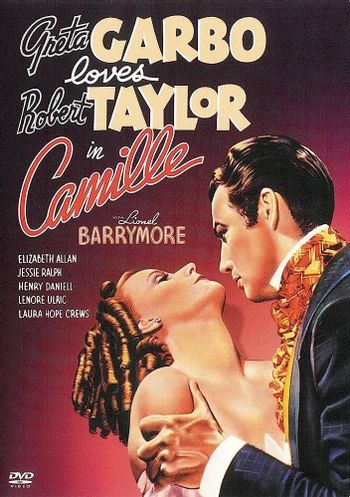 Camille is a 1936 film directed by George Cukor, starring Greta Garbo and Robert Taylor.
It is based on the novel La Dame aux Camelias by Alexandre Dumas, fils, popularly known in English as Camille, and also the source of the opera La Traviata. This non-musical adaptation finds Garbo playing Marguerite Gauthier, a high-class courtesan in 1847 Paris. Marguerite is starting to get a little long in the tooth to be a hooker, at least of the high-class variety, and she also has run up a lot of debts due to excessive generosity with her friends. Needing a means of support, she manages to become the kept woman of snooty, ultra-rich Baron de Varville (Henry Daniell).
Inconveniently, she also chooses this moment to fall in love with handsome young Armand Duval (Robert Taylor). Various obstacles interfere with their romance—Marguerite's debts, the disapproval of Armand's father (Lionel Barrymore), and Marguerite's Incurable Cough of Death.
Younger audiences might recognize this as the movie Daddy Warbucks takes Annie out to see in the 1982 film Annie.
---
Tropes:
---