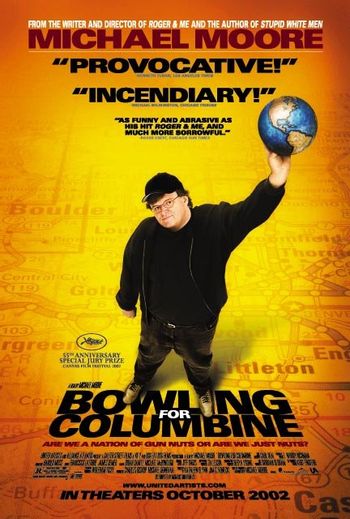 "Is America a nation of gun nuts? Or just nuts?"
Bowling for Columbine is a 2002 award-winning documentary film by Michael Moore, which examines the effects of gun violence in the United States, and attempts to give a reason for the motivation of the killers involved in the Columbine massacre.
The film explores what Moore suggests are the causes for the Columbine High School massacre and other acts of violence with guns. He focuses on the background and environment in which the massacre took place, and some common public opinions and assumptions about related issues. The film also looks into the nature of violence in the United States.
Moore talks to many people — including South Park co-creator Matt Stone, the National Rifle Association's then-president Charlton Heston, and musician Marilyn Manson — as he seeks to explain why the Columbine massacre occurred, and why the United States has a high violent crime rate (especially crimes involving guns).
As with Moore's other films, its accuracy is often disputed (and let's say no more about that), but the film is nevertheless worth checking out for its acerbic and thought-provoking statements on American society.
---
This film provides examples of:
---