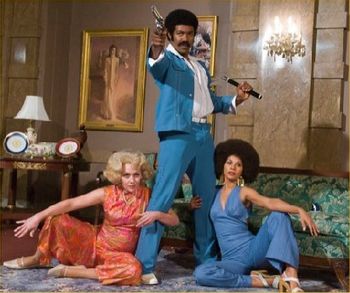 "Who the hell is interrupting my kung fu?!"
I wanna tell you a story about a friend I had. He's a mean motherfucker and he's super bad! So grab onto your seats and hang on tight, while we describe the movie starring Black Dynamite!
Black Dynamite is an entirely ridiculous, over-the-top 2009 homage to the Blaxploitation films of The '70s. Michael Jai White plays the title character, a Vietnam vet and former CIA agent who declares war on all drug dealers when his brother, a CIA informant, turns up murdered by the mob. He soon discovers that the conspiracy goes far beyond the local drug dealers and sets his sights on the masterminds behind the scheme.
An animated series premiered on Adult Swim on July 15 2012, with many of the movie's cast reprising their roles. Also has an upcoming 2020
Spiritual Successor, Outlaw Johnny Black, which seems to take the adventures to The Western.
---
As Bullhorn would say, "The film as it was just described above, contains tropes that are examples of:"
---
"Whenever there's injustice, wrongs to be righted, innocents to be defended, Black Dynamite will be there, delivering ass-whuppings. And I will not hesitate to lay the hammer down on any clown that comes around. Cause if they want a fight, they best come see me. Cause I'm Black Dynamite!"
---