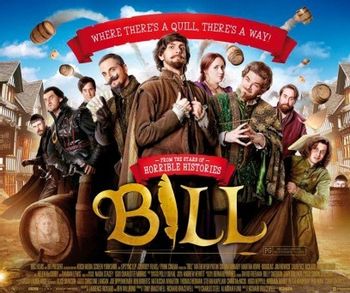 A 2015 British comedy film about William Shakespeare and the first big screen project by Mathew Baynton, Simon Farnaby, Martha Howe-Douglas, Jim Howick, Laurence Rickard and Ben Willbond — the comedy troupe who got their start in Horrible Histories and went on to create Yonderland and are often referred to as The Six Idiots. Written by Rickard and Willbond, directed by Richard Bracewell and starring the whole troupe plus Helen McCrory and Damian Lewis.
William "Bill" Shakespeare of Stratford is kicked out of a lute-playing band and, rather than getting a sensible job, decides to try his hand at writing plays, much to his wife Anne's annoyance. As stage plays just aren't viable in Stratford, Bill heads off to London, only to find out from playwright Christopher Marlowe that it's in the grip of plague and all the theatres have been shut as a precaution.
Meanwhile, King Philip II of Spain recruits a team of "specialists" and heads off to London himself with a plot to assassinate Queen Elizabeth I. Teaming up with Elizabeth's disloyal courtier the Earl of Croydon, Philip decides to stage a play as a means of smuggling gunpowder into the palace to blow up the queen.
Bill is rescued from his and Christopher's temporary job of handing out leaflets in a giant tomato costume to provide the play, but soon discovers he's the patsy in the scheme and, pursued by the Queen's loyal but incompetent agent Sir Francis Walsingham, must clear his name, uncover the plot and save the day.
---
Tropes: