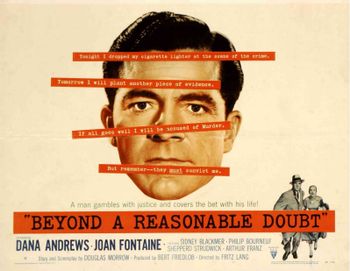 Beyond a Reasonable Doubt is a 1956 film directed by Fritz Lang, starring Dana Andrews and Joan Fontaine.
Andrews is Tom Garrett, a former newspaperman turned author engaged to Susan Spencer (Fontaine), the daughter of his old boss, newspaper publisher Austin Spencer (Sidney Blackmer). Austin Spencer is an anti-death penalty activist who at the beginning of the movie has taken Tom to see an execution. Austin springs an idea on Tom: expose the death penalty for an injustice by planting circumstantial evidence suggesting someone is guilty, then reveal the truth after the innocent man is convicted and sentenced to death. The front-page articles about the murder of a local stripper named Patty Gray provide the opportunity Tom and Austin are looking for, and Tom volunteers to set himself up. Tom is convicted as planned, but that's all right, as Austin is ready to clear his name... until The Plot Reaper intervenes, and Tom is facing the death penalty for real.
This nasty little Film Noir was the last film Fritz Lang made in Hollywood. Lang, tired of the studios, left afterwards for his homeland of Germany, having fled Those Wacky Nazis over 20 years before. See the critically-panned Kevin Spacey movie The Life of David Gale for another film with a similar premise. Peter Hyams made a remake in 2009.
---
Tropes:
---