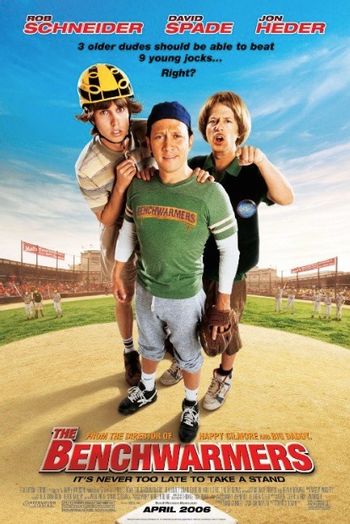 "It's never too late to take a stand..."
The Benchwarmers is a 2006 Happy Madison Productions film directed by Dennis Dugan about Clark Reedy (Jon Heder) and Richie Goodman (David Spade), a pair of grown nerds, and their far less nerdy and older friend, Gus Matthews (Rob Schneider). Gus' wife Liz (Molly Sims) is desperate to get pregnant while Gus is a bit reluctant. They save a child from bullies while Gus was teaching the others baseball, and later defeat them in the same game. The child that they helped's father, a billionaire named Mel Carmichael (Jon Lovitz), returns and proposes them to play in a tournament with some of the nastier children's teams to raise awareness of bullying and its consequences, as none of them were allowed to play sports as children. However, rival little coach and former childhood bully Jerry McDowell (Craig Kilborn) is determined to stop the Benchwarmers from winning the prized stadium at all costs.
A direct-to-DVD sequel Benchwarmers 2: Breaking Balls was released in January 2019 (where only Jon Lovitz reprised his role). It got extreme negative reviews.
---
The film provides examples of:
---