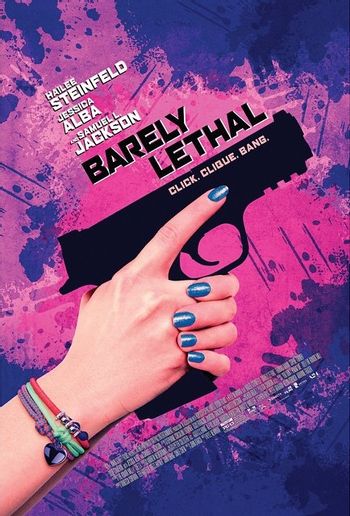 Barely Lethal is a 2015 action comedy film directed by Kyle Newman about a teenage assassin named Megan who fakes her own death and enrolls in high school to live a normal life.
The film stars Hailee Steinfeld in the lead role, as well as Jessica Alba, Samuel L. Jackson, Dove Cameron and Sophie Turner, among others.
Oh, and RKO produced this film. That RKO.
Previews: Official Trailer
---
This film contains examples of:
The Ace: Megan is the very best of all the agents in Prescott Special School for Orphans.
Deconstructed with Cindy and Donna, and the Cheerleaders. Cindy and Donna are mean girls, but they don't seem to be particularly popular, which ends up allowing Megan to fall for their tricks. Megan assumes the Cheerleaders are this because films have taught her they always are, but in actuality they seemed to be genuinely nice girls who wanted to befriend the new girl.
---