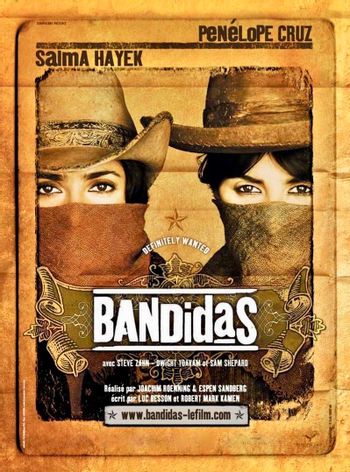 Bandidas is a 2006 Western action comedy film produced and directed by Joachim Ring and Espen Sandberg and starring Penélope Cruz and Salma Hayek.
It tells the story of two very different young women, Maria Alvarez (Cruz) and Sara Sandoval (Hayek). After the death of Sara's wealthy landowner father, and the attempted murder of several poor farmers including Maria's father, at the hands of American land baron Tyler Jackson (Dwight Yoakam), they join forces to rob banks and give the money to the poor. At first they don't get along very well and can barely rob anything, but after training with a famous bank robber, Bill Buck (Sam Shepard), they take a level in badass, Maria becoming a Gunslinger and Sara a knife user (something to do with her inability to hold a gun without having hiccups). Later on they meet Quentin Cooke (Steve Zahn), a scientist and criminal investigator brought in by Jackson to help catch the bandidas. The girls capture him, and after realizing who the real criminal is, he decides to help them. And then stuff happens...
It is noted for being the first movie in which Cruz and Hayek ever worked together and for its huge amounts of Fanservice.
---
Bandidas contain examples of:
---