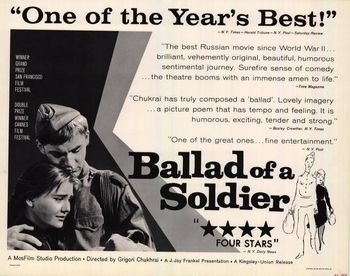 Ballad of a Soldier is a 1959 film from the Soviet Union, directed by Grigori Chukrai.
Alyosha is a 19-year-old private soldier on the Eastern Front during the Great Patriotic War. He's a signalman, but when everybody else runs away in panic Alyosha mans an anti-tank gun and destroys two German tanks. When Alyosha is brought to the general to receive a decoration, he asks for leave to go home and fix the leaky roof on his mother's house. The general gives him six days' leave—two to travel into the interior, two to fix his mom's roof, two to return. Ideally, this should be enough, but delays and complications caused by the chaos in wartime Russia threaten Alyosha's chances to get home. Shura, the beautiful young girl Alyosha meets as he's hitching a ride on a supply train, is another complication.
Ballad of a Soldier was one of the films made during the Khruschev thaw, when Soviet society became somewhat more open in the years after Stalin's death. This film and another film made during this time, The Cranes Are Flying, contrasted with earlier, relentlessly patriotic Soviet depictions of the war by emphasizing the tragedy and human sacrifice which it caused.
---
Tropes:
---