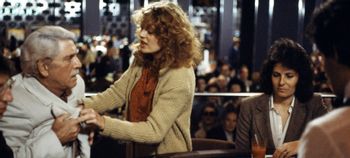 Atlantic City is a 1980 film directed by Louis Malle, starring Burt Lancaster and Susan Sarandon.
Sally Matthews (Sarandon) is a waitress in a casino in Atlantic City, New Jersey. She has the apartment next door to an elderly former gangster, Lou Pascal (Lancaster). One day her dirtbag husband Dave shows up, toting along Sally's sister Chrissie, whom Dave has impregnated. Dave is also toting along a bag full of cocaine that he stole back in Philadelphia. Dave enlists Lou to help him sell the cocaine, but Dave promptly gets murdered by the gangsters he stole from. This leaves Lou with a large stash of cocaine that he starts selling himself, spending the money on crisp new suits and romancing the enchanting Sally. However, the gangsters that Dave stole from are still out there, looking for their cocaine.
One of 41 films to get nominated in all the "Big Five" Academy Award categories (Picture, Director, Actor, Actress, Screenplay), although it didn't win any.
---
Tropes:
---