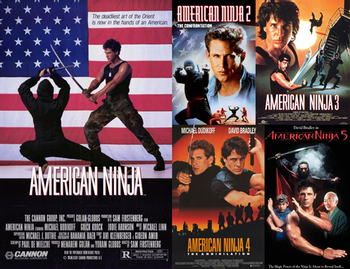 The American Ninja series was five films, three of which starred Michael Dudikoff, which saw the title character White Ninja (aka Pvt. Joe T. Armstrong) raised up by a ninja clan, then somehow join the U.S. Army, then run into all sorts of situations requiring him to ninja the shit out of people. Every Ninja trope ever invented is played out multiple times.
The titles were:
American Ninja
American Ninja 2: The Confrontation
American Ninja 3: Blood Hunt
American Ninja 4: The Annihilation
American Ninja V
Funny story, the last one (featuring Pat Morita) was not even going to be an "American Ninja" movie, but the producers decided to slap the title on it post production, even though it had one of the American Ninja series actors playing an entirely different character.
---
Tropes found in these films:
---