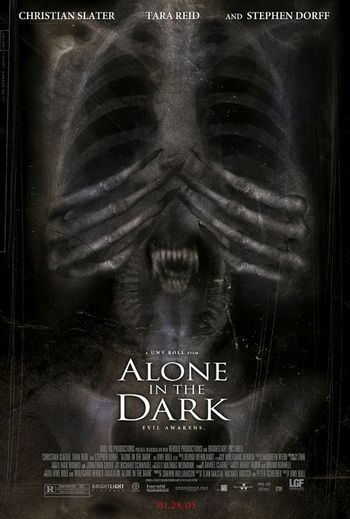 "
In 1967, mine workers discovered the first remnants of a long lost Native American civilization - The Abkani. The Abkani believed that there are two worlds on this planet, a world of light and a world of darkness. 10,000 years ago the Abkani opened a gate between these worlds. Before they could close it, something evil slipped through. The Abkani mysteriously vanished from the Earth. Only a few artifacts remained, hidden in the world's most remote places. These artifacts speak of terrifying creatures that thrive in the darkness, waiting for the day when the gate can be opened again. Bureau 713, the government's paranormal research agency, was established to uncover the dark secrets of this lost civilization. Under the direction of archaeologist Lionel Hudgens, Bureau 713 began collecting Abkani artifacts. When the government shut down his controversial research, Hudgens built a laboratory hidden within an abandoned gold mine. There, he conducted savage experiments on orphaned children in an attempt to merge man with creature. Hudgens victims survived as "sleepers" - lost souls awaiting the moment of their calling.
"
Alone in the Dark, released in 2005 and directed by Uwe Boll, is a very loose adaptation of the franchise that popularized and kick-started the Survival Horror genre of video games. The film uses a few character names and basic plot elements from 2001's Alone in the Dark: The New Nightmare, but this is where the similarities between the two continuities end.
The film begins with an extended opening text crawl (narrated!) that tries to shed some light on the story, which involves an ancient race called the Abkani, an experiment by a Mad Scientist named Lionel Hudgens (Matthew Walker), and an orphanage from which he took many of his test subjects. One of these orphans, paranormal investigator Edward Carnby (Christian Slater), is called upon to investigate the remnants of the Abkani, hoping to find out how that's connected to his past (since he can't remember it at all).
What follows is a chain of events that brings Edward back to his old girlfriend, Aline Cedrac (Tara Reid) (who, in the original games, was not romantically linked to him). Eventually, the two of them run into members of Bureau 713 (of which Edward is coincidentally a former member), fight off hordes of aliens, and engage Hudgens in a final showdown.
A direct-to-video sequel entitled Alone in the Dark II was released in 2008, starring Rick Yune as Edward Carnsby, Lance Henriksen, Bill Moseley, and Danny Trejo. Uwe Boll produced, but did not direct, the second movie (the actual directors, Peter Scheerer and Michael Roesch, were also the directors for the House of the Dead sequel Dead Aim).
---
Alone in the Dark provides examples of:
---