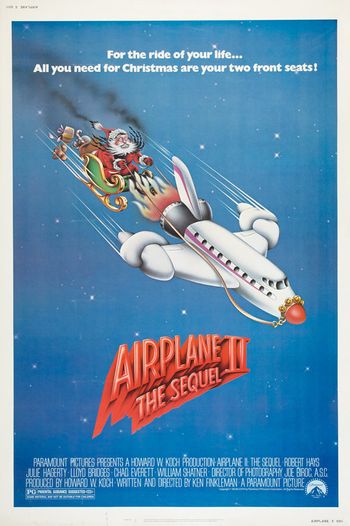 "
Ted, I have the strangest feeling we've been through this exact same thing before.
"
— Elaine
The 1982 sequel to comedy classic film Airplane!, featuring most of the original cast (with the notable exception of Leslie Nielsen, who was busy starring in Police Squad!) and written/directed by Ken Finkleman.
Ted Striker, reluctant heroic pilot, has been committed to an insane asylum after attempting to blow the whistle on a faulty prototype lunar shuttle. Elaine, his love interest, has moved on and is engaged to another pilot named Simon. Both are crew members on the shuttle's maiden voyage. Learning of the launch, Ted escapes from the asylum, boards the shuttle, and is forced into the cockpit again as a malfunctioning computer system kills the pilots and sends the spacecraft off course.
Although the Zucker, Abrahams and Zucker team had nothing to do with this one, the film tries and largely succeeds at capturing the tone of the original, largely through recycling many of the jokes.
---
This film provides examples of:
You Have GOT to Be Kidding Me!: In the montage of news reports on the impending Mayflower disaster, there's an American Sign Language interpreter signing as a woman on PBS is commenting on how this is all the fault of meat-eating men. As she drones on, the interpreter stops signing, gives the jerk-off motion, and rolls her eyes.
---
"I don't know if this is a good time to ask, but would it be possible for me to get my briefcase back?"
---