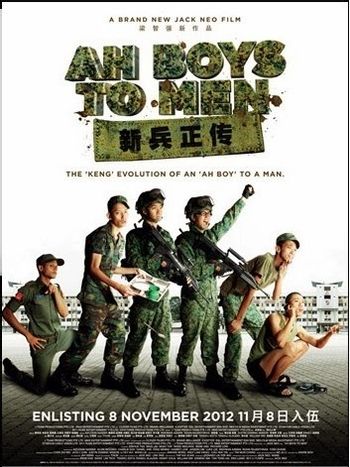 Ah Boys to Men is a series of Singaporean-Malaysian made Tokusatsu comedy-drama films directed by Jack Neo. The main subject of the movies is about the young men of Singapore undergoing their two-year mandatory National Service in the Singapore Armed Forces (SAF). The films also explores the various issues faced by the recruits such as coping with the new stressful military environment, mixing around with different people of various races and personalities and finding a sense of purpose in serving the nation.
The film is centred around a young man named Ken Chow, a hot-headed rebellious youth who is forced to serve his two years of NS when he is enlisted into Basic Military Training in Pulau Tekong as a recruit in Ninja Company - Platoon 2, Section 2. He initially bemoans his fate alongside his squadmates; Bang "Lobang" Lee Onn, Aloysius Jin a.k.a "Wayang King", Man In Ping a.k.a "I P Man", Ismail Mohammed and Muthu Shanmugaratnam. As striking personalities and different upbringings clash, they will slowly learn about themselves as well as each other as they train to become soldiers and learn what it means to become a man.
Ah Boys to Men Part 1 was the highest grossing movie in Singapore of all time, earning over SGD$234,000 on opening day, and over S$6.3 million in local box office sales, almost three times it's original budget.
The movie was initially broken into two parts, but due to the success of the first two and buoyed by fans for a sequel, Ah Boys to Men 3 was released on February 19, 2015. Instead of being a direct continuation, the film presents an alternate scenario where most of the cast, plus newcomer Hei Long, are being trained in the Naval Diving Unit instead.
The fourth movie is already released in Singapore on November 9, 2017. However, it made news when a Singaporean actor of Indian background accuses the production crew of stereotyping Indians
. A fifth movie was announced.
A spin-off titled Ah Girls Go Army was released in 2022, but it has been met with a lot of controversy. A sequel, Ah Girls Go Army Again was announced for production.
There is also a web series titled Ah Boys: Hidden Warfare, which follows the main characters as they attempt to navigate the workplace.
The series consist of the movies, comic adaptations and even a musical show.
---
This franchise provides examples of:
open/close all folders
Ah Boys to Men Part 1 & 2
Tropes pertaining Part I's prologue:
Tropes found in the movies proper:
Ah Boys to Men 3: Frogmen
Ah Boys to Men 4
Ah Boys: Hidden Warfare
Freeze-Frame Bonus: In the first episode, when I P Man is filling up an application form for a job, he misinteprets the box marked "sex". As he is filling out the rest of the form, one can see the word "virgin" in the box scribbled out and replaced with "once a week".
---
"We're not just buddies, we are a band of brothers."
---