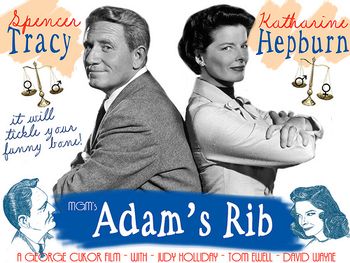 "May it please the court, I submit that my entire line of defense is based upon the proposition that persons of the female sex should be dealt with before the law as the equals of persons of the male sex. I submit that I cannot hope to argue this line before minds hostile to and prejudiced against the female sex."
— Amanda Bonner
Adam's Rib is a 1949 romantic comedy film directed by George Cukor, starring Katharine Hepburn and Spencer Tracy. Ruth Gordon and Garson Kanin wrote the screenplay.
Adam and Amanda Bonner are wealthy married lawyers living in New York, he working for the district attorney's office and she working as a defense attorney. Adam gets assigned as prosecutor in the attempted-murder case of Doris Attinger (Judy Holliday), a housewife who followed her unfaithful husband to his mistress's apartment and shot him in the shoulder. Amanda, wishing to prove a point about feminism and the Double Standard, gets Doris to hire her as defense attorney, setting up the Bonners as opponents in court. This does great harm to their marriage.
One of nine films co-starring Tracy and Hepburn.
---
Tropes:
---