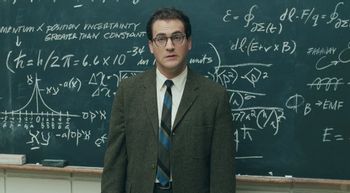 Rabbi Nachtner: We can't know everything.
Larry Gopnik: It sounds like you don't know anything! Why even tell me the story?
A Serious Man is a 2009 dark comedy-drama film conceived by The Coen Brothers, depicting a few crazy days in the life of a midwestern physics professor, Larry Gopnik (Michael Stuhlbarg).
Larry's wife Judith astounds him with her announcement she intends to divorce him in favor of the more distinguished widower Sy Ableman; son Danny, whose Bar Mizvah approaches, smokes weed while he pretends to study; whiny daughter Sarah sneaks money from his wallet to save up for a nose job so she can look less Jewish. At the college, his student Clive Park attempts to bribe him for a passing grade — and Mr. Park threatens to sue him for defamation should he report it. He is kicked out of his own house and forced to live in a crummy motel with his sickly and eccentric brother Arthur. Oh, and someone's been writing anonymous letters to his university warning them not to grant Larry tenure. Can things get any worse?
---
This film features examples of:
From Bad to Worse: A heap of problems snowballs on Larry Gopnik; lawyers for divorce, lawyers for property claims, lawyers for his brother in law, a colleague who is cheating on his wife, blackmail... Just as Larry starts to see a little bit of light after accepting a bribe for much needed money, his doctor calls with news about X rays and his son might be about to get sucked up by an incoming tornado. It's unclear what is going to happen in the minutes after the movie ends, which is probably the point.
God Is Evil: Or at least appears that way as a result of being completely incomprehensible. Alternately, He is just, expecting that humankind only "be good," but harsh to Old Testament levels against even seemingly inconsequential sins. Or maybe he is just working in mysterious ways. The short term format of the film means that the consequences of our characters actions are left ambiguous. And that is assuming that God exists/is involved in the plot at all.
Hollywood Heart Attack: An Averted Trope. A minor character's heart attack consists of him making a pained face and collapsing.
Hunting the Most Dangerous Game: In a nightmare Larry has, his neighbor and the neigbor's son are hunting for Jews, and shoot Arthur and Larry.
In Mysterious Ways: Invoked by Rabbi Natchner.

Rabbi Nachtner: These questions that are bothering you, Larry - maybe they're like a toothache. We feel them for a while, then they go away.

Larry: I don't want it to just go away! I want an answer!

Rabbi Nachtner: Sure! We all want the answer! But Hashem doesn't owe us the answer, Larry. Hashem doesn't owe us anything. The obligation runs the other way.

Larry: Why does he make us feel the questions if he's not gonna give us any answers?

Rabbi Nachtner: He hasn't told me.
Running Gag:

Jews going "Jesus Christ!"
"Be out in a minute!"
"Fucker."
"Sy Ableman?"
"She wants a gett." "A what?"

"Shaggy Dog" Story:

The Tale of the Goy's Teeth, which has no resolution. When pressed for a resolution, the teller casually dismisses it.
The film itself has No Ending and no resolution on any of its plot threads.

Shout-Out:

Larry watching his neighbour sunbathing topless is reminiscent of David seeing Bathsheba.
The overarching story itself has been compared to the Book of Job.
If you're fast enough to catch it, apparently Larry's wife is using Tuchman Marsh, aka the law firm briefly mentioned in the Coens' previous film, Burn After Reading.
Larry's son is an ardent fan of F Troop.
---