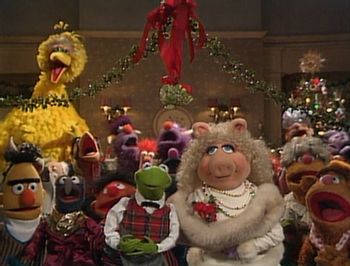 "Careful of the icy patch!"
The best-remembered of several Christmas Specials featuring The Muppets, this could probably be better called A Jim Henson Family Christmas. It originally aired in 1987 on ABC in the U.S. and CBC in Canada.note Although it was actually filmed at CFTO-TV in Toronto, a CTV affiliate.
Fozzie Bear has packed up the entire cast of The Muppet Show and brought them with him to surprise his mother Emily Bear on her isolated farm for Christmas. There's just one problem: Emily's scheduled a trip to Malibu and rented out the farm house to Doc (from the North American version of Fraggle Rock), who's looking forward to spending a quiet Christmas in the country. Despite his protests, they're soon joined by the Sesame Street gang; complicating the matter, "the worst blizzard in fifty years" is preparing to slam the region, and Miss Piggy is missing in action. Throw in the Fraggles and even a bit of Muppet Babies, and Hilarity Ensues.
Followed by Miss Piggy's Hollywood in 1989, among many other Muppet specials; but in a holiday context, The Muppet Christmas Carol arrived next in 1992. Sesame Street next had a new Christmas special of their own with 1996's Elmo Saves Christmas (note that in A Muppet Family Christmas, Elmo was just a background character with no lines). Both Fraggle Rock series had ended earlier that year, but the computer-animated spin-off The Doozers followed in 2012, with an Apple TV+ reboot of the main series premiering in 2022. Muppet Babies continued first-run episodes until 1991, and saw its own CGI reboot in 2018, which has had two Christmas episodes.
---
This special provides examples of:
---