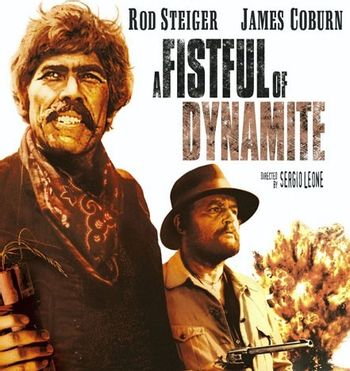 "I know what I am talking about when I am talking about the revolutions. The people who read the books go to the people who can't read the books, the poor people, and say, "We have to have a change." So, the poor people make the change, ah? And then, the people who read the books, they all sit around the big polished tables, and they talk and talk and talk and eat and eat and eat, eh? But what has happened to the poor people? They're dead! That's your revolution. Shhh... So, please, don't tell me about revolutions! And what happens afterwards? The same fucking thing starts all over again!"
— Juan Miranda
Directed by Sergio Leone in 1971, the film takes place during The Mexican Revolution in 1913. Juan Miranda (Rod Steiger), a Mexican bandit, has a chance encounter with early Irish nationalist John Mallory (James Coburn). Mallory also happens to be a demolitions expert with enough explosives to level a mountain.
Despite a rather heated, if ultimately non-fatal, first meeting, Miranda seemingly enlists the Irishman's talents in order to fulfill his life's ambition: robbing the Mesa Verde national bank. Unfortunately for Juan, the entire heist is an elaborate ruse and John is simply using him to further the revolution's aims. And so begins Juan's unwillingly entry into the revolution and of course his chaotic friendship with Mallory.
Despite the light-hearted moments between Juan and John, the romantic side of revolution is frequently deconstructed throughout the movie as both characters suffer significant losses. It's arguably Sergio Leone's most politically charged movie, capturing as much Leone's reaction to the chaos of Italy's Years of Lead, a cycle of terrorism and political warfare between left- and right-wing extremists, as it is a Western.note Leone gave an interview shortly before the film's release which confirms this, saying he felt compelled to make Dynamite because "politics no longer makes any sense in Italy!" Thus the revolution setting was intended to be symbolic according to Word of God, incorporating elements from a variety of events and time periods, and not an accurate rendering of the Mexican Revolution. The whole thing is, as with all Leone's westerns, set to epic Ennio Morricone...but this time, his Awesome Music has a trippy side.
The film never had the commercial success of the director's other Spaghetti Western classics, due in part to confusing trailers implying it was an actual comedy and poor marketing. Leone's insistence the movie be called Duck, You Sucker! in its initial U.S release, believing it to be a popular turn of phrase in the states, despite being repeatedly told this was not the case, didn't help things either. Critics reviewed it favourably (especially in Europe, where the movie's parallels to contemporary politics were perhaps better-appreciated) but certainly not to the extent of the director's other work, though it has begun to change since.
Sergio Leone's final western epic, it's also undoubtedly his most overlooked film.
The movie has been released under many titles; Duck, You Sucker! was derived from the film's Italian name, Giu La Testa (literally meaning "Duck Your Head"). During a re-release it was renamed A Fistful of Dynamite for commercial reasons, to make it the fourth film in The Dollars Trilogy. And finally, in some places, it was originally marketed under its working title of Once Upon A Time... The Revolution (or ...in the Revolution), making it a second part in a thematic "Once Upon a Time" trilogy.
This film provides examples of:
John Mallory.
Colonel Reza sports a badass greatcoat.
One-Steve Limit: Technically averted with John, Juan and Seán (which are English, Spanish and Irish variations of the same name). "Johnny&Johnny", the name of partnership between John and Juan proposed by the latter, lampshades it.
---